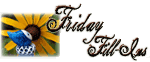 And...here we go!

1. Plans and schedules

plus hard work equal success

.



2. I'm happy when things worked as planned

.



3. The last thing I drank was

water flavored with crystal light mix.



4. One of the most valuable things in my life is having a wonderful family

.



5. I like

Canadian ham, and pineapple

on my pizza.

6. Dear November,

I am grateful for Thanksgiving Day is soon at hand!



7. And as for the weekend, tonight I'm looking forward to

cooking my fave "sinampalukang manok"

, tomorrow my plans include

cleaning bathrooms and my son's bedroom

and Sunday, I want to go to church with my family!