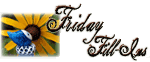 Would anyone be interested in making a Halloween graphic?

And...here we go!

1. The crickets sing,

a happy song

?

2.

I'll be there

wherever you are.

3. I want to get far away from the

hustles and bustles of city life even for a while would be great

.

4.

Waking up with my parents around

; this was a dream.

5. But as for me

and my house, we will serve the Lord

.

6.

Philippines is the country where

I come from

7. And as for the weekend, tonight I'm looking forward to

going out and have fun with my son

, tomorrow my plans include

doing the laundry in the morning and going to Dallas Arboretum in the afternoon with my amily

and Sunday, I want to go to church and then rest the whole afternoon!