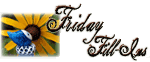 And...here we go!

1. It was a dark and stormy night, we thought of going to bed early.
2. Since he is busy with his written test this Monday, so I offered to take the books myself.
3. Rushing out, I have forgotten to lock my car.
4. Listen...I think I heard a howl!
5. Shhhh... Daddy is asleep, so bother him not, okay?
6. Honey, I am hungry, would you please give me something good to eat!
7. And as for the weekend, tonight I'm looking forward to watching the video from my grandma's funeral tomorrow my plans includes help chaperon the kindergarten class on their trip to pumpkin patch and at night go to church for trunk or treat and Sunday, I want to rest after church service.